The Confessions of Nat Turner Reader's Guide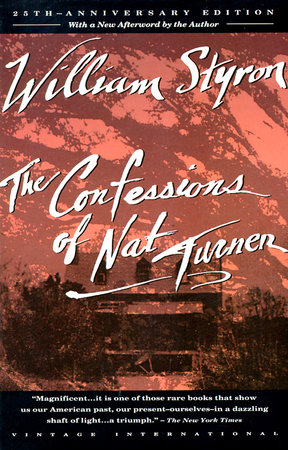 The Confessions of Nat Turner Reader's Guide
READERS GUIDE
Pulitzer Prize Winner

The introduction, discussion questions, and author biography that follow are designed to enhance you group's reading of William Styron's The Confessions of Nat Turner. We hope they will aid your understanding of the themes and the historical and political issues that are central to Styron's fictionalized narrative of Nat Turner's 1831 rebellion—the only effective slave revolt in United States history.
Introduction
In rich and evocative language, Styron relates the life of Turner, a brilliant, enraged slave: his plantation childhood in Tidewater Virginia, his abrupt expulsion from the plantation as it comes apart during the depression of the 1820s, and the series of masters, both kindly and brutal, into whose hands he falls. Styron convincingly describes Nat's growing religious obsession and his belief that God has ordered him to destroy white people.
The Confessions of Nat Turner
constitutes a daring and even audacious imaginative leap for Styron, who is white. He has kept the story true to historical records of Turner's life while taking advantage of what Styron believes is the historical novelist's right to "manipulate historical fact and pursue his intuition concerning that fact to its artistically logical conclusion" [p. 444].
Questions and Topics for Discussion
1. During Nat's lifetime it was forbidden by law for slaves to learn to read and write. What was the purpose of such a law? What sort of power might a slave derive from literacy? How do the other characters in the novel, black and white, respond to Nat's ability to read?
2. How do Nat's thought processes during his long conversation with Jeremiah Cobb early in the novel illustrate the difficulty, even the impossibility, of an honest and unguarded dialogue between a slave and a white man? Compare this conversation with Nat's last meeting with Gray. Can you find other moments in the story when Nat comes close to making emotional contact with a white person but draws back?
3. Styron suggestively leaves the reader uncertain as to whether his protagonist has actually witnessed supernatural events or whether in fact he is the victim of delusions. How does Styron achieve this effect in writing about Nat's "visions"? Does Nat's interpretation of these visions possess its own inner logic?
4. Moore's encounter with the starving Isham and his family is one of the morst harrowing moments of the novel. Why does Moore turn away from the terrible sight? Nat observes that "chatter or unchained, slave or free, people whose skins were black would never find true liberty—never, never so long as men like Moore dwelt on God's earth" [p. 298]. How does this profoundly pessimistic statement square with the message of redemption at the end of the book?
5. What is Styron's purpose in presenting so many of the white characters as grotesques? Is there a measure of realism here, or are they grotesque because we see them through Nat's eyes? How does Nat's principle of not looking white people in the eye contribute to his perception of them? Does his vision change toward the end of the book, and if so, why?
6. Most of the people in the novel, even the illiterate, are familiar with Scripture. How does Nat manipulate Scripture to achieve his ends? How do other characters—Richard Whitehead, Reverend Eppes, even Margaret Whitehead—similarly manipulate Scripture? What advantages does a profound knowledge of the Bible represent in this culture?
7. Nat spends half his life on the poor holdings and dirt farms of the Virginia Southside. Here, mutual respect between black and white men is even rarer than it is in the hierarchical society of the plantation. What do you take to be the reasons for this?
8. "Big talk will fetch you nothing," Nat observes at one point, "but nigger talk might work" [p. 9]. How does Nat modulate his speech according to the person he is addressing? Is there a difference in the way he addresses, for example, Margaret Whitehead and Samuel Turner? What is Styron's purpose in giving him such a very literary, indeed poetic, inner voice?
9. Why is Jeremiah Cobb alone exempted from Nat's plan of destruction? What, in Nat's eyes, makes him different from the other sympathetic white characters, such as Samuel Turner, Margaret Whitehead, and Sarah Travis?
10. How does Styron use images of nature to stress, or provide counterpoint to, the story's themes and events?
11. Will, who lusts for blood, and Nat, who cannot bring himself to kill, represent two sides of the slave rebellion and, indeed, of the slave character. How does Styron balance these two aspects? Are characters like Will necessary to effect social change, or do they represent an intolerable threat? Do the conflicting passions represented by Will and Nat continue to influence the civil rights movement today? Is it possible to draw a correlation to the conflicting philosophies of Martin Luther King, Jr., and Malcom X?
12. Judging from his behavior during the rebellion, how do you sum up Nat's character? Do you feel that he is weak, or do you believe that his inability to act, even assert his authority over Will, is in truth a sign of humanity, of a growing realization that the avenging God of Ezekial must be balanced with the New Testament God of love? In what way does Nat's murder of Margaret constitute, in Styron's words, "a dramatic image for slavery's annihilating power, which crushed black and white alike, and in the end a whole society" [p. 447]?
13. Styron strongly believes that it is the historical novelist's "right and privilege to substitute imagination for facts" [This Quiet Dust, p. 7], even when writing about characters who actually existed. Do you feel that the novelist is allowed complete license with historical characters, or is there a case to be made for not ascribing emotions and actions to people who might have had very different ones?
14. The year after the novel was published, a group of prominent black critics gave voice to a number of complaints about the book (William Styron's Nat Turner: Ten Blacks Respond, ed. John H. Clark). Among other objections, they accused Styron of racism in his decision to place the rebellion's central flaw in Nat's character rather than in the social system itself. Do you agree with that criticism? Do you feel that Nat's flaws are presented as intrinsic to his character or to his race, or does Styron actually imply that they arise from the social system of which Nat is a product?
15. The ten black writers mentioned above also criticized Styron for presumption in pretending to understand the emotions of a black slave. Do you feel that Styron's race makes The Confessions of Nat Turner less valid as a work of art and a social document? Or do you believe that such efforts are valuable, even vital, in the ongoing struggle to bridge "that grim apartness that has defined racial relations in this country" [p. 454]?
16. What is Nat's attitude towards the "paternalistic" ethos of the Southern racial system, exemplified at its best by Samuel Turner and Joseph Travis? How do different black characters in the book, such as Hank, Arnold, or Willis, respond to paternalism? Although it is always risky to speculate on an author's opinions when it comes to a work of fiction, is it possible to deduce from the text Styron's own feelings about white paternalism? In three essays," This Quiet Dust," "A Southern Conscience," and "Slave and Citizen" (published in This Quiet Dust), Styron discusses paternalistic attitudes, including those of his own family. These essays may be of special interest to you as you read the novel.
About this Author
William Styron was born in 1925 in Newport News, Virginia. He served in the United States Marine Corps during World War II and again for a year during the Korean War. Between his two periods in the Marines he completed his studies at Duke University and wrote his first novel,
Lie Down in Darkness
, which won the 1951 Prix de Rome of the American Academy of Arts and Letters. Styron lived for a short time in Paris, where he wrote his novel
The Long March
(1953) and participated in founding the literary magazine
The Paris Review
, of which he is still an advisory editor. He is the author of three more novels,
Set This House on Fire
(1960),
The Confessions of Nat Turner
, which won the 1967 Pulitzer Prize, and
Sophie's Choice
(1979); a play, "In the Clap Shack" (1973); and an essay dealing with depression,
Darkness Visible
(1990).
This Quiet Dust
, a collection of nonfiction pieces, was published in 1982. His most recent book, a collection of three stories written when he was a young man, was
A Tidewater Morning
. As well as the Pulitzer and the Prix de Rome, Styron is the recipient of the National Book Award, the Howells Medal, and the Edward MacDowell Medal. Since 1955 Styron has lived in Roxbury, Connectticut.
Suggested Reading
James Baldwin, "The Fire Next Time"; Mary Chesnut,
Mary Chesnut's Civil War
, ed. C. Vann Woodward, 1981; John H. Clark, ed.
William Styron's Nat Turner: Ten Black Writers Respond
, 1968, including the original "Confessions"; Malcolm Cowley, ed.
Writers at Work: The Paris Review Interviews
, 1958 (interview with Styron); Stanley Elkins,
Slavery: A Problem in American Institutional and Intellectual Life
, 1976; Ralph Ellison,
Invisible Man
, 1952; Eugene D. Genovese,
From Rebellion to Revolution: Afro-American Slave Revolts in the Making of the Modern World
, 1979; Georg Lukacs,
The Historical Novel
, 1962; Stephen B. Oates,
The Fires of Jubilee: Nat Turner's Fierce Rebellion
, 1975; William Styron,
This Quiet Dust
, 1982, particularly the section entitled "South"; Frank Tannenbaum,
Slave and Citizen: The Negro in the Americas
, 1947.
Back to Top