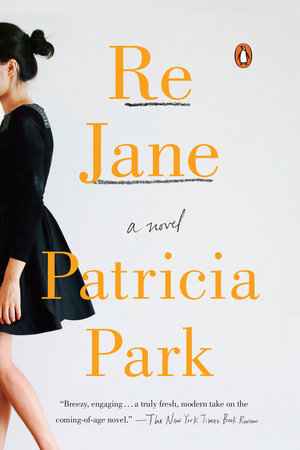 READERS GUIDE
Introduction
"There's no word for it in English."
(p. 5,
Re Jane
)
Jane Re's life is ruled by the Korean principle of
nunchi—
"the ability to read a situation and anticipate how you were expected to behave" (p. 5). Born in Korea to an American father and a Korean mother who died when Jane was just a baby, the orphaned girl was sent to live with her Uncle Sang in Queens. Now a college graduate, Jane is crushed when her entry-level job at a financial firm—and her ticket out of Queens—is eliminated.
Instead of climbing the corporate ladder at the World Trade Center, Jane returns to working alongside her uncle at Food, her family's Korean American grocery store in Flushing. Trapped and overwhelmed, Jane continually feels "
tap-tap-hae—
an overwhelming discomfort pressing down on you physically, psychologically" (p. 8).
When a friend shows her an ad in the
Village Voice
from a Brooklyn couple seeking an au pair, Jane jumps at the chance to escape.
When Jane arrives at 646 Thorn Street, she's not exactly sure what to expect, but she's taken aback when handsome Ed Farley answers the door. His wife, Beth Mazer, also defies expectation—she's an ardent feminist and academic. They are convinced that Jane will be the right fit for their nine-year-old Chinese adopted daughter, Devon.
Jane's Uncle Sang is less than pleased with her decision to move to Carroll Gardens. But Jane herself finds life with the Mazer-Farleys intriguingly different from the striving immigrant enclave she's inhabited until now.
A well-regarded professor of women's studies, Beth is, unsurprisingly, also a lacto-ovo vegetarian with a strict policy banning refined sugar. She gives Jane a binder outlining the household's many dos and don'ts, along with a stack of books intended to free Jane from "the problematic tradition of desire and the male gaze." (p. 74).
Jane settles into a happy routine, eventually becoming Devon's confidante and friend. And through Devon, she meets Nina Scagliano, another nanny and a born-and-bred Brooklynite who introduces Jane to the world of cocktails and clubbing. But as the strain in Beth and Ed's marriage becomes increasingly obvious, Jane and Ed find themselves sharing a connection and understanding that soon leads to love.
Salvation from this tricky situation arrives unexpectedly when Sang pressures Jane to join the family in Seoul to attend to her dying grandfather. Arriving in Korea just as two planes hit the Twin Towers, Jane leaves behind not only Ed but a New York that is battered and grieving. In Seoul she finally meets her mother's other siblings, learns her family history, and embarks on a journey of self-discovery that will help her understand her place in both cultures.
Engagingly written and brilliantly observed, Patricia Park's debut novel updates
Jane Eyre
to contemporary New York and the world of organic produce and identity politics. Readers will cheer Jane as she journeys from Queens to Brooklyn to Seoul and back in a coming-of-age story that announces Park as a debut writer to watch.
Join the conversation on social media using the hashtag #ReJane
Questions and Topics for Discussion
1. When Jane's job at Lowood falls through, she goes straight back to working for her Uncle Sang after graduation. What prevents her from trying to find another job?
2. What does the interaction between Sam Surati and Beth tell you about Beth's character?
3. Beth's list of restricted foods affects everyone in the Mazer-Farley household, including Jane. What are some of the ways in which one character uses food as a means of controlling another?
4. Jane and Ed feel comfortable with one another, in part, because "we both came from decidedly unglamorous worlds, steeped in the language of vermin, water damage, building codes" (p. 73). Though coming from two different backgrounds, what similarities do they share in relation to their understanding of their identities?
5. Is Jane's affair with Ed a bigger betrayal of Beth or of Devon?
6. When Sang arrives shabbily dressed for a family dinner, Big Uncle is furious and makes them all leave the restaurant. In the elevator, he scolds Sang, saying, "Just stay quiet if you don't know how things work" (p. 147). How did your feelings about this scene change after you learned that it was Sang and not Big Uncle who gave their father the money to invest in Gangnam real estate?
7. Why did Sang and Hannah withhold the truth about Jane's parents?
8. On Nina's first night in Seoul, Emo is furious at Jane for letting her friend come home alone while she stayed out with Changhoon. Do you agree with Emo's criticism?
9. What do you think of the decisions Jane made with Changhoon and Ed, respectively? What does each man represent to Jane?
10. Every language has words or phrases like "nunchi" or "tap-tap-hae" that don't have an exact equivalent in English. If you grew up speaking a language other than English, is there a similarly untranslatable word or phrase that informs your own life? How well does Park depict what it's like to grow up a second-generation immigrant in America?
11. Re Jane is a retelling of Jane Eyre. How does Park echo Charlotte Brontë's classic novel? How does she make the story her own?
About this Author
Patricia Park was born and raised in Queens. She attended the Bronx H.S. of Science before earning a BA from Swarthmore College and an MFA from Boston University, where she studied with Ha Jin and Allegra Goodman. She has taught writing at Boston University, Ewha Womans University, and Queens College. A Fulbright Scholar and Emerging Writer Fellow at the Center for Fiction, Park has written for numerous publications, including
The New York Times.
She currently lives in Brooklyn.
Back to Top