We're going deep inside the making of a book, with interviews from Penguin Random House employees in editorial, marketing, sales, and more.  If you've ever wondered about all the behind-the-scenes work that goes into making your favorite books, this is the series for you.  
But What If We're Wrong? went on sale last Tuesday, and Chuck's launch party was held at the Brooklyn Bookstore, BookCourt. 
Chuck read from his book and signed copies for fans… and it was a packed house!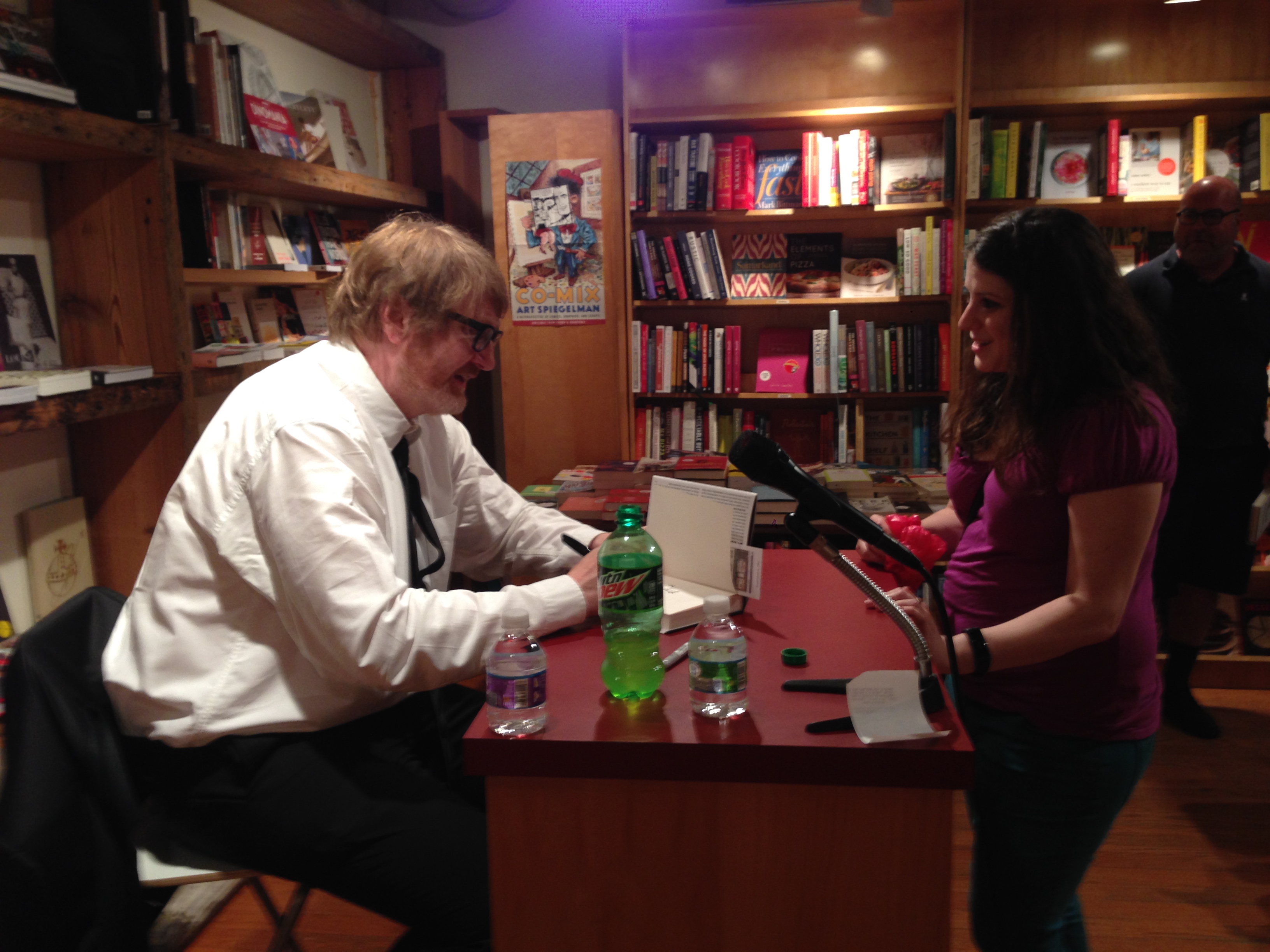 Today we're featuring an interview with  Andrew Unger, events and publicity manager of Brooklyn bookstore, BookCourt.
What is your job title, and what does that mean? What's your day to day? What would surprise a layman to know?
I am the events and publicity manager. My daily schedule is varied and unpredictable, but focuses primarily on acting as the voice and public face of BookCourt. I manage our
Twitter
,
Facebook
,
Instagram
, and the back-end of the
BookCourt website
. I do all of this in addition to coordinating events for the store. We have one of the most robust
calendars
of any bookstore in the city, supporting over 300 authors every year. I think everyone, layman and professionals, are surprised to find out just how genuinely moved I am by the opportunity I have to work at one of the premier independent bookstores in the country.
What's it like working at BookCourt vs. any other bookstore?
Jonathan Lethem
has this wonderful quote he gave us once where he said that BookCourt was a university and a party in slow motion. I've always loved that way of talking about the store. As usual, Jonathan Lethem was able to put it so much better than me. On the weekends, we see a vast array of people. Old, young, local, tourist … it's hard to not get a little whimsical about the "scene." When you're here and you're the one that people look to for a recommendation or for a friendly conversation about one of your favorite books, it always feels almost too good to be true. I've only ever worked at BookCourt, but I don't know that this particular blend of magic could be found anywhere else.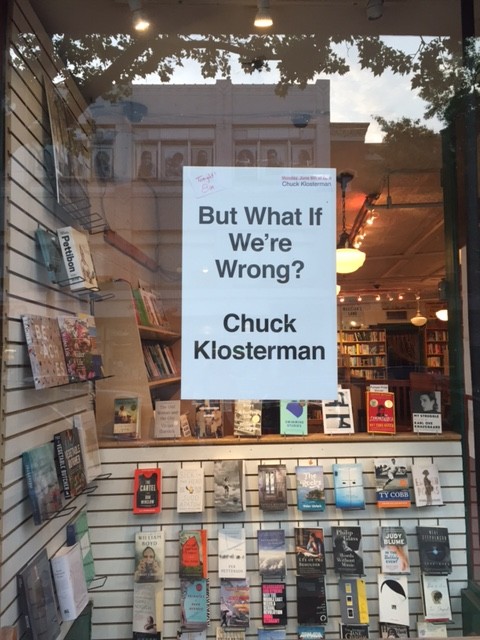 When you order books from a publishing company, what do you consider? What makes a book attractive to you and your customers?
We have store bestseller list at the front. This list features the bestselling books from the previous week. Consistently, these books reflect the same taste as reviewers for the
New York Times
, the
New Yorker
, and the
New York Review of Books
. Our customers prefer something sophisticated and intellectually stimulating. Proud as all of us are of our libraries, there's just no escaping a good cover. Many bad books have been sold through good cover designs and, far and away, too many great books have been relegated to a dusty corner of the shelf because of an ill-advised cover. Occasionally, a truly great book will arrive in the store.
Gone Girl
 or
Building Stories.
These are anomalous and rise to the top with a momentum born from nowhere else except the compelling narrative itself.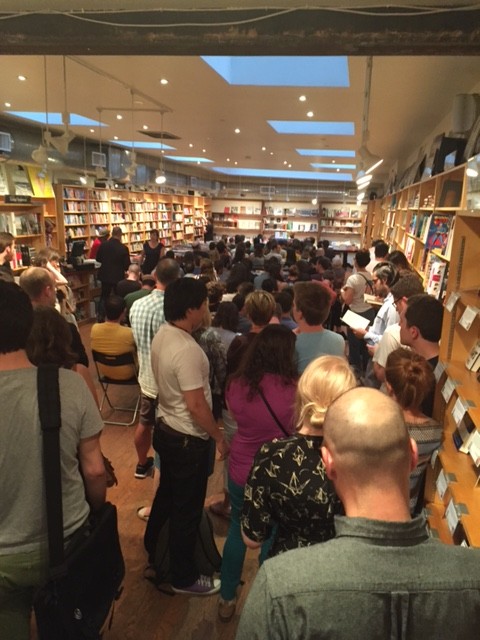 Tell me about some of the events and community-building at BookCourt. 
In the early-aughts a Barnes & Noble opened up just a few blocks away from the store. It's presence was intimidating and unwelcoming. The communities of Cobble Hill and Carroll Gardens rallied behind us in an impressive way. There are many great neighborhoods in New York, but these two have helped curate and foster one of the most impressive booms in Brooklyn. Today Court Street, as it runs from Atlantic Avenue into Red Hook, is ripe with local, family-owned businesses. In an age when small business is struggling for air, the residents of Cobble Hill and Carroll Gardens have created something truly special. Because of their dedication to us, we've dedicated ourselves to serving them. Our events are free and open to the public and through these events we are able to feature internationally celebrated authors as well as local and debut authors.
What's interesting to you about But What if We're Wrong? How would you describe it to a reader? Why would they want to read it?
But What If We're Wrong? was so engaging to me because it highlighted the best qualities of Chuck Klosterman's personality. He is a friend of the store an often in and out. The writing is reflective of Chuck's cadence and temperament. Thoroughly researched, he delivers prescient wisdom with a light-touch and a flare for the unexpected. The cover design, its simple, understated message of turning something on its head was ingenious and wonderful. I was the most surprised by how the footnotes at the bottom of the page operated as an aside to the reader in a way that looked at quick glance like a moniker of sophistication but read like a nudge and a wink. In almost every way, the book asked over and over again, the question of its title. Not often is a reading experience so cohesive and stream-lined.
Which books are your go-to books to sell? Any old standbys?
People expect a booksellers to possess an intimate knowledge of not only all of their favorite books, but also of all the books they haven't yet read. Great booksellers are up for the challenge. We all spend a lot of time pouring over reviews and ripping through as many books as we can. I don't want to take the magic out of bookselling, but here are some pointers.
—Don't recommend Bolano. Don't be that guy. When you're asked about it, gush appropriately because he's amazing. Other writers that fall into this category are Don DeLillo, Thomas Pynchon, Dostoyevsky, J.D. Salinger, and Phillip Roth. (There's a pattern)
—Listen, listen, listen. What did they do that day? What movies do they like? Are they quiet, nervous, excited, busy, jaded? Most of the time, people know what book they want, you just have to listen to them describe it and pull it off the shelf.
—Here is what you recommend in a pinch:
Where'd You Go Bernadette?

Self Help

Bobcat
—The old stand-by: Stoner
—Once in almost 5 years of bookselling, a customer came into the store and asked me to give her my top five favorite books of all time. No one ever asked me this before and took me seriously. Ask any bookseller what book they wish people would read more and they open up completely. For me, I think William Gass's The Tunnel is one of the most unappreciated masterpieces ever written. James McElroy's Women and Men slipped out of print almost a decade ago and no one noticed … it's the equivalent in my eyes of discovering that a DaVinci portrait was forgotten in the basement of a church abbey for generations.
What's the best thing about your job?
No one rolls their eyes at me when I gush about the ways that certain books completely changed my life.
Listen to our interview with Chuck Klosterman and his editor, Brant Rumble: 
Read first post in this series here, and find out more about But What If We're Wrong here: